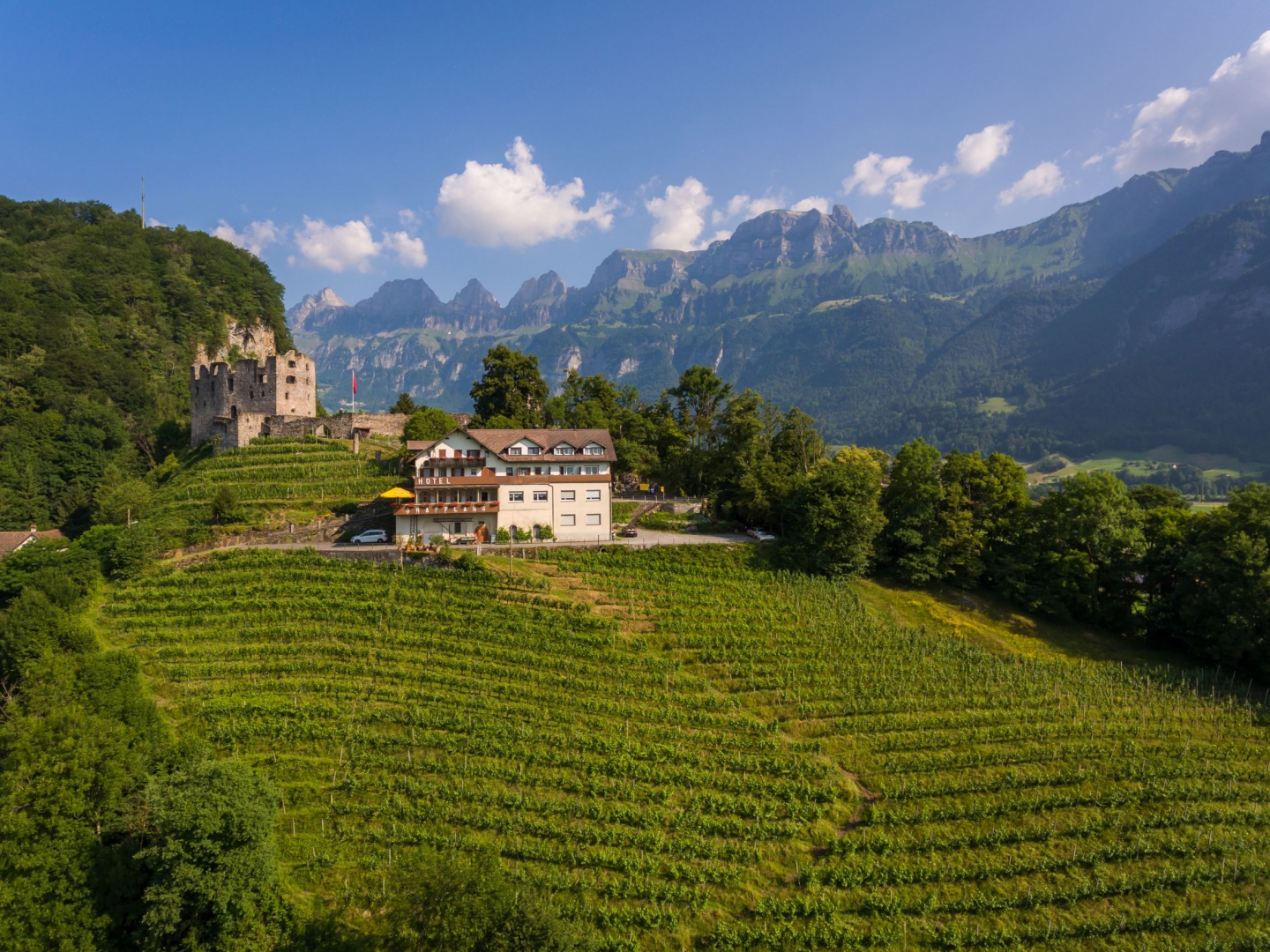 Welcome to the hotel restaurant Graepplang
Actual news: Top ski package (starting from 2 nights) bookable with Heidiland tourism. Interested? Click here to benefit!

Company holidays from 15 to 29 January 2018



Please note: our rest day is Monday.
The comfortable and cosy middleclass hotel Gräpplang is situated at the hill of the old castle ruin "Gräpplang" and is surrounded by the mountain chain Churfirsten and Flumserberg. The 8 rooms, the sun terrace and its tranquil location are perfectly suited for your relaxation. The restaurant with its delicious and mouth-watering cuisine and our self-made wines are our pride. The elevated, protected south-facing location offers a pleasant climate and a spectacular view. As it's also conveniently located, you'll reach the ski and hiking area Flumserberg within a 15 minute drive and the Lake Walen, with water sports facilities, even in 10 minutes.
Restaurant
The focus lies on seasonal and regional dishes, which are cooked with a lot of passion and pride. Wine lovers await a selection of local wines. During summer, the large sun terrace invites you to stick around and to unwind.
Restaurant 40 seats
Terrace 35 seats
Different halls up to 100 seats
Special arrangements for seminars, meetings, weddings and societies
Wine
Our "Castle Wine", self-made from Cabernet-Cubin grapes, Pinot Noir and also from Pinot Gris grapes, grows on the south side around the hotel.
Rooms in general
We offer 20 cosy and quiet guest beds with shower, toilet, TV and some with balcony.
History - 4000 years in brief told
Findings proof the existence of human cultures since the New Stone Age. On the castle hill stands the knight's castle, which became famous during the middle ages. In the well-developed interior of the ruins, on the regional websites and in literature, the fast-changing history can be found. We, the Bless family, are surely able to tell interesting stories from the past and to talk about the last archaeological excavations "before our doorstep" as our ancestors possibly were part of the castle owners. www.ruinegraepplang.ch
Included in the price
Breakfast
Service & VAT
Free Wi-Fi
Free parking
Extra costs
Visitor's tax from 6 years CHF 2.40 per person/night (

Exception: in winter package bookings

included in the price

)
Optional supplement Half board CHF 25.00 per person/night

Other conditions
Pets allowed on request

Children prices on request
0 - 3 years free of charge
4 - 6 years CHF 35.00 / night in the parents room
7 - 12 years CHF 49.00 / night in the parents room

Equipment
Comfortable ambience
|
Restaurant
|
Wifi
|
Terrace/garden restaurant
|
Service
Suitable for cycle tourism
|
Gluten Free Dishes
|
Pets on request
|
Lactose free meal
|
Ski cellar
|